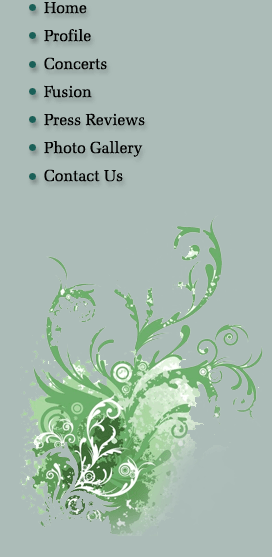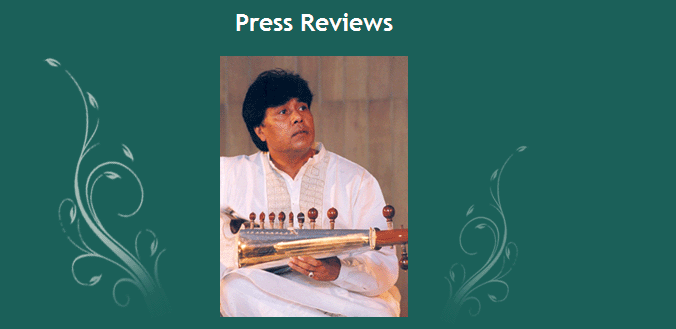 | | |
| --- | --- |
| | Mukesh Exploiting the full range of subtleties of sarod to the hilt in more than three octaves, exhibited commendable mastery in technique and content. |
| | The Hindu, April 8, 1994 |
The superb tonal flavor of the sarod was well sustained all through the evenings's recital. It was a rich-toned and highly proficient musicianship.. There were series of hauntingly released melodic strains by Mukesh with his deft handing of Sarod.
The statesman, June 24, 1996
Mukesh Sharma seems to enjoy a prodigious command over the technique of the sarod. He gave evidence of an impeccable tune and toyed playfully with the laya and tala. Mukesh's gamak phrases and brisk movement are alluring.
The Hindu, January 2, 1998.
The homage paid to maestro Octavio Paz would have been incomplete were it not for your musical expertise on the sarod. The pleasing sensation of the music that rippled through the air last night, did indeed lend a special touch the whole programme.
His excellency Mr. Edmundo Font,
The Ambassador of Mexico May 4, 2001.
I found in Mukesh, a Great sarodist in the making. The manner in which he was able to harness the turbulent sarod of Pathan orgin and bring out even intimate nuances,
The statesman, September 21, 2001
There was balance, harmony and excellence of technique in the handling of the instrument.
The Hindustan Times, September 2002
Mukesh, displayed a phenomenal control over his instrument..With extraordinary fluency and fineness he was able to release many a reach toned melodic variations, specially with bold Gamaks.
The Gulf Times, May 2003
India's well-know musician Mukesh Sharma recently visited Karachi's and offered a delightful evening for music aficionados.Karachi's Classical Music Society arranged a recital by Sharma,a sarod maestro from India.It was a great pleasure to listen to an artist, with his complete mastery of the instrument, his submerged involvement in his work which reflected his obvious love for the instrument. His audience appeal is based not only upon his artistry, but also upon his radiant personality and his ability to spread happiness among his listeners as he plays, flashing smiles in every direction.
Karachi Friday Times July 2, 2010.